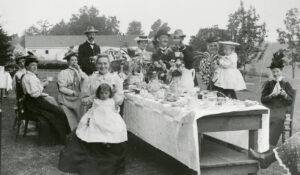 Community Events
Thursday May 10, 2018 Heritage York History Night 7:30 pm Lambton House Art historian Shirley Ann Brown on "Massey Hall Stained Glass."
Sunday May 13, 2018 1:00 pm Lambton House Madeleine McDowell leads the annual Aggie's Wildflower walk on Mother's Day.
Thursday May 24, 2018 Etobicoke Historical Society Meeting, 7:30 pm, Montgomery's Inn Speaker:  Doug Taylor on the "History of Toronto's Theatres."  NOTE THAT THIS EVENT IS NOW MEMBERS AND GUESTS ONLY.

Saturday, May 26, 2018 10:00 am-4:00 pm and Sunday, May 27, 2018 12:00 pm-4:00 pm Doors Open Toronto Lambton House Visit for a tour and enjoy our exhibits
Friday, June 1, 2018 Heritage York Jane's Walk, 6:15 pm Lambton House "The Last eXpressway" Gather at the Lambton House for a walk over to the Canadian Pacific railway tracks to view the passage of the last eastbound "piggyback" (trailers on railroad cars) train scheduled to run in Canada before its cancellation, then return to the Lambton House for Pub Night
Friday, June 1, 2018 Heritage York Presents Pub Night, Doors Open 6:00 pm, music at 8:00 pm Lambton House Musical Act Jane Drake
Saturday, June 2, 2018 Swansea Historical Society Annual Walk, 2:00 pm Bennett Park near High Park Subway Station "Community and Recreation in Swansea" will feature locations where residents of Swansea relaxed and built community, ending at Swansea Town Hall
Wednesday June 6, 2018 Weston Historical Society Meeting 7:30 Village of Humber Heights Jordan Bimm will speak on Toronto's and Weston's contributions to aerospace
Thursday June 14, 2018 Heritage York History Night 7:30 pm Lambton House Lieutenant Colonel Phil Harton will speak on the Governor's Road (Dundas Street)
Sunday, July 1, 2018 Heritage York Canada Day Barbecue 11:00 am-2:00 pm Lambton House Hot Dogs, Hamburgers, Roast Beef Sandwiches, Vegetarian fare, pop, coffee and tea.
Saturday, September 29, 2018 Swansea Historical Society's Annual Simcoe walk 9:30 am Rousseaux Site (8 South Kingsway near the Queensway) 1:00 pm  Alex Ling Fountain, Northwest Corner Bloor and Jane In September 1793, Lieutenant Governor John Graves Simcoe left Lake Ontario exploring possible transportation routes northward, starting with the "Carrying Place" along the Humber River. In this annual event, the Swansea Historical Society re-traces the first day of Simcoe's journey. Participants are welcome to just experience the morning walk as far as Bloor Street, the afternoon walk north toward Eglinton Flats, or the entire day (bring a lunch or try a restaurant in Bloor West Village during the break).
Wednesday October 3, 2018 SHS Annual General Meeting & Elections, 7:30 pm, Swansea Town Hall  Speakers: Trevor Parkins-Sciberras and David Reigate – "Tales of Toronto Transit" Join local transit enthusiasts Trevor Parkins-Sciberras and David Reigate for an enjoyable and interesting presentation on the history of Toronto transit. In addition to an extensive collection of photographs of transit vehicles past and present, Trevor has also created an amazing display of scale models of TTC vehicles using Lego.
Wednesday November 7, 2018 SHS Meeting, 7:15 for 7:30 pm, Swansea Town Hall  Speaker: Barbara Dickson – "Bomb Girls: Trading Aprons for Ammo". Author and speaker Barbara Dickson has lived in Scarborough for more than 50 years. Imagine her surprise when she learned there were over four km of abandoned tunnels under the city, less than a km from where she lived. Her presentation offers a unique glimpse into the lives and hearts of the courageous and dedicated Canadian women who worked in a top-secret World War Two munitions factory.
Wednesday December 5, 2018 SHS Meeting, 7:15 for 7:30 pm, Swansea Town Hall  Speaker: Plum Johnson – "They Left Us Everything". Plum Johnson is a Canadian writer raised in Oakville, who won the RBC Taylor Prize in 2015 for her memoir They Left Us Everything. In it, she describes discovering history in what parents leave behind, and about the importance of preserving it to make sense of the past.
---
Want to search by date for Events? View our Event Calendar