President's Message, June 2018:
by Bob Roden, Swansea Historical Society President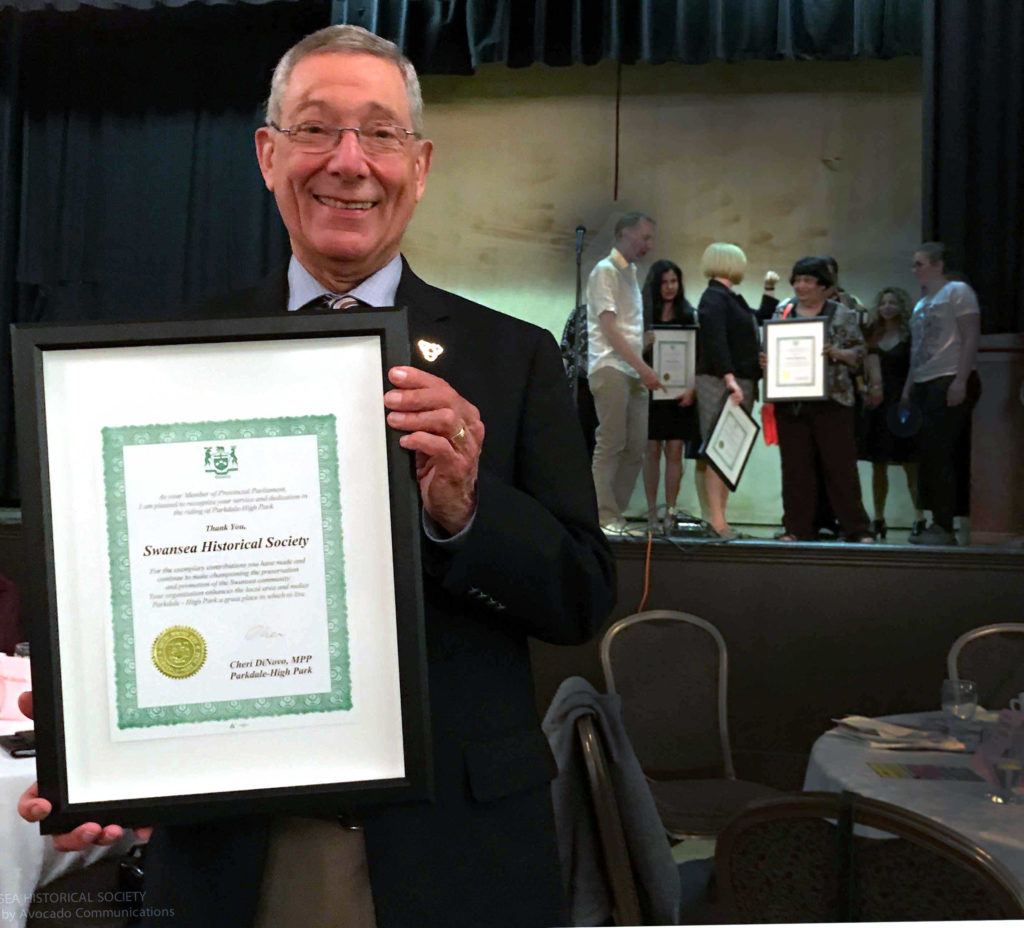 Our May meeting was the last formal meeting before the summer break. In addition to the "Jane's Walks" which took place the first weekend in May, we are planning guided walking tours for the summer months. Our programme of monthly meetings with invited speakers will resume in October. In the meantime, there will be lots going on across the City and the Province. Please refer to the "Seasonal Programs" section below for details. We also invite you to check out our new on-line "Events" page at http://swanseahistoricalsociety.ca/events.
The October meeting will include the Society's Annual General Meeting and elections for the Executive to serve for 2018-2019. We are always more than happy to welcome new faces with fresh ideas onto the Executive. In particular, we need a Secretary to replace Margaret Lyons, who resigned last fall. We also have room for "Members-at-Large", who may not have any ongoing responsibilities, but are willing to attend meetings and help out from time to time. Prior experience and knowledge of local history, although desirable, are not requirements. Please give some thought as to how you could contribute to the operation of your Society. If you are interested in getting involved, or you know someone you would like to nominate for a position on the Executive (with that person's permission), please contact me or any of the current Executive members.
---
Ontario and Toronto Seasonal Programs in 2018
Doors Open Ontario offers free week-end visits to contemporary and historic sites in 35 communities across Ontario between April and October. (Doors Open Toronto takes place on May 26 and 27). For details, see www.doorsopenontario.on.ca
Heritage Toronto's 61 guided walking tours cover various areas of the City between May and October. To cover the costs of the program, donations of $10.00 per person per tour are "encouraged". Copies of the Tours Program booklet can be picked up from TD Bank branches or downloaded from heritagetoronto.org
Royal Ontario Museum "ROMWalks" 48 walking tours of Toronto between May and October encompass the diverse aspects of Toronto's vibrant neighbourhoods including history, architecture, arts of all varieties, education, and more. Most tours are free. View additional information regarding scheduled walks.
---
Follow us on
Twitter
and
Instagram
for historical Swansea photos and other updates.