President's Message, September 2018:
by Bob Roden, Swansea Historical Society President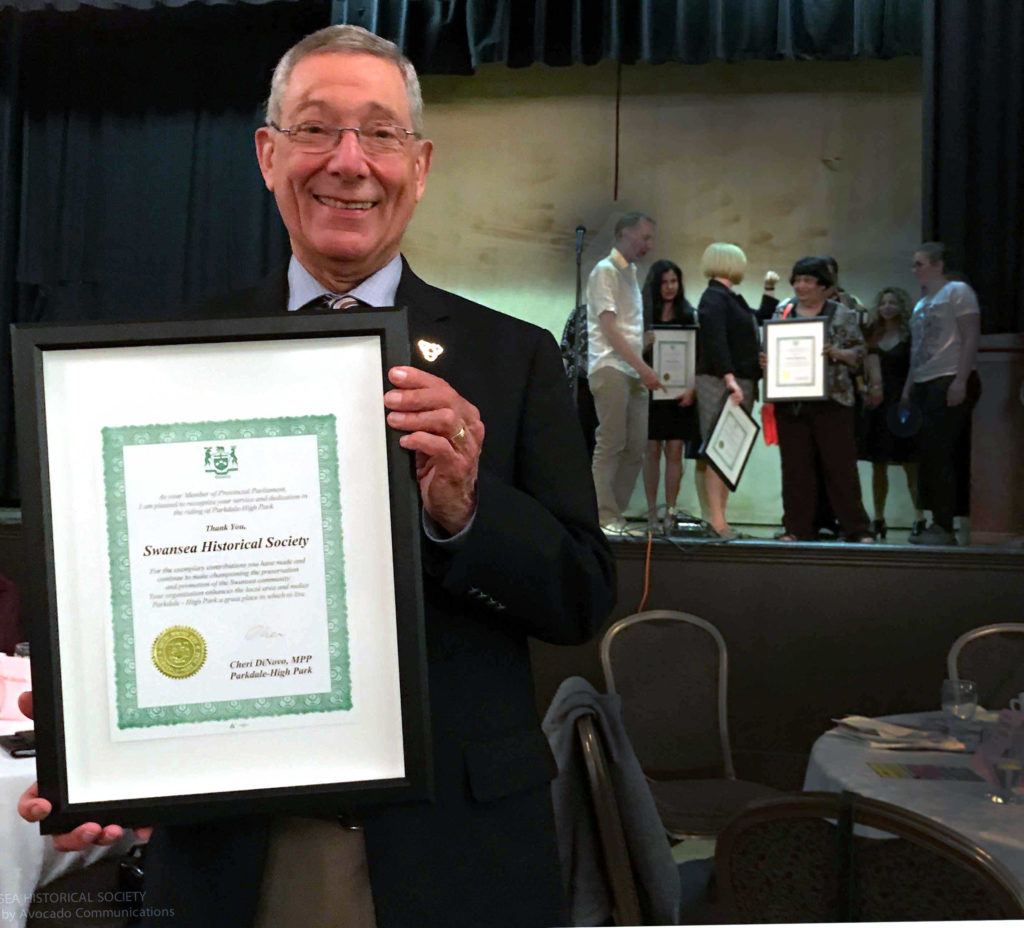 Our May meeting was the last formal meeting before the summer break. Our programme of monthly meetings with invited speakers will resume in October, and we are looking forward to another exciting year. Please refer to the "Future Events" section in this Newsletter for details. We also invite you to check out our recently introduced on-line "Events" page at swanseahistoricalsociety.ca/events.
The October meeting will include the Society's Annual General Meeting (AGM) and elections for the Executive to serve for 2018-2019. We are always more than happy to welcome new faces with fresh ideas onto the Executive. Prior experience and knowledge of local history, although desirable, are not requirements. We will be pleased to "show you the ropes". In addition to the traditional management positions, we also have room for "Members-at-Large", who may not have any specific ongoing responsibilities, but are willing to attend meetings and help out from time to time.
Having said that, we have a number of key positions that need to be filled for the coming year.
After 10 years on the Executive, Linda Symsyk has decided it is time for her to step away. For the past 6 years, Linda has "worn 3 hats" as our Vice-President, Archives / Resource Centre Director, and Representative to the Toronto Historical Association. We owe Linda a tremendous debt of gratitude for all her work on behalf of SHS over the years. In moving forward, there is, of course, no requirement for one person to take on all three of these roles. It just worked out that way in Linda's case.
Also, we need a Secretary to replace Margaret Lyons, who resigned last fall. The job essentially involves recording minutes at our monthly meetings and Executive meetings. With today's technology, there is no longer a requirement for the Secretary to read out the meeting minutes, or to handle other people's correspondence. You may have noticed that we skipped the business portion of some of our recent members' meetings, because there was no one present to take minutes.
In summary, if the Society is to continue operating, it is essential that members come forward with a willingness to take on these responsibilities. So, please give some thought as to how you could contribute to the operation of your Society. If you are interested in getting involved, or you know someone you would like to nominate for a position on the Executive (with that person's permission), please contact me or any of the current Executive members, preferably before the October 3 AGM.
Follow us on Twitter and Instagram for historical Swansea photos and other updates.