Although Swansea actually begins, not at Bloor St., but approximately 110 feet south of Bloor, Bloor West Village was naturally part of the Swansea community. (Read: Where exactly is Swansea? )
A short history of the Bloor Jane Intersection in 1953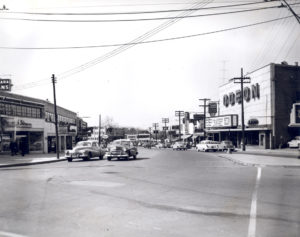 Bloor St. jogs south as it heads west from Jane St., so the border of Swansea jumps to the north side of the street, the only part of Bloor street that was within the boundaries of the former Village of Swansea.
The Odeon Humber Theatre was unique in that it was built on a site located in three different municipalities (Toronto, York and Swansea). A break-in caused great confusion to the three police forces involved as the entry, crime and escape were each in a different jurisdiction.
The restaurant to the west ran into difficulties providing alcoholic beverages to its clientele. The front section being in "dry" Swansea, necessitated service only in the back which was in "wet" York.
In 1953, Mickey Rooney was starring in "All A Shore" at the Odeon, now slated for demolition and replacement by a 10 storey mixed use building. Farther west we find Loblaws, one of the many large grocery stores on Bloor St. (marked as Highway 5 on the post in front of the Odeon); now there are not any between Kennedy Ave. and Mill Rd., near the Mississauga border. Aikenhead Hardware, Dorothy Joyce Beauty Salon, Shaw Business School and McDowell Motors are just past Loblaws. Back of the Esso sign, on the south side, was the Kingsway Pharmacy with its well-frequented soda-bar, then a government re-training centre and now a dog daycare centre called "Dogtopia".
Ensign Motors, which sold Morris and MG cars, is the next white building. Beyond were two more gas stations that, like others in the Village, had the privilege of remaining open twenty- four hours because they were in Swansea. This was a source of frustration for the stations east of Jane because they were in Toronto.
Bloor and Jane – Then and Now
Old Photos of Bloor West Village
Hover over the images to view captions or click the images to view larger versions – or just use the left and right arrows on your keyboard to scroll through. This gallery is best viewed on a larger screen.
Donating Old Photos
We are always looking for donations of old photographs and memorabilia of Swansea, High Park and Bloor West Village including photos of the retail stores along Bloor Street.
If you have any memories of past businesses, it would be appreciated if you would note the present address and write down your memories so we can start to compile a history of past businesses in the area. Copies of any pictures along Bloor would also be valuable additions to the archives.
Please contact us or visit us to inquire.